Membres fondateurs du collectif Triii créé en 2005, c'est au travers de performances vidéos et d'installations immersives que ce collectif pluri-artistes s'épanouit. Les dernières créations mise en scène par Emmanuel et le collectif, « Immersion virtuelle » dans le cadre de Mons 2015, Capitale européenne de la culture, ou encore le spectacle « S.H.E. » en juin 2016, ont reçus l'appui du public et le soutien de leurs pères.
Emmanuel Kowandy, ancien étudiant des Beaux Arts de Tournai en section Arts Numériques, débute sa carrière professionnelle dans le dessin animé, puis dans les jeux ludo-éducatifs et culturels. Graphiste et motion designer indépendant, Emmanuel intervient dans plusieurs écoles dédiées aux arts graphiques et numériques, démontrant un intérêt particulier à la transmission.
Son travail de plasticien en Arts Numériques se nourrit du monde ultra-connecté et obnubilé par la perfection, pour en extraire grâce aux failles des outils numériques, une interprétation brute, à vif, et expressive. Redonner l'essence d'imperfection, d'erreur, d'humain, dans un environnement visuel de plus en plus contrôlé et aseptisé.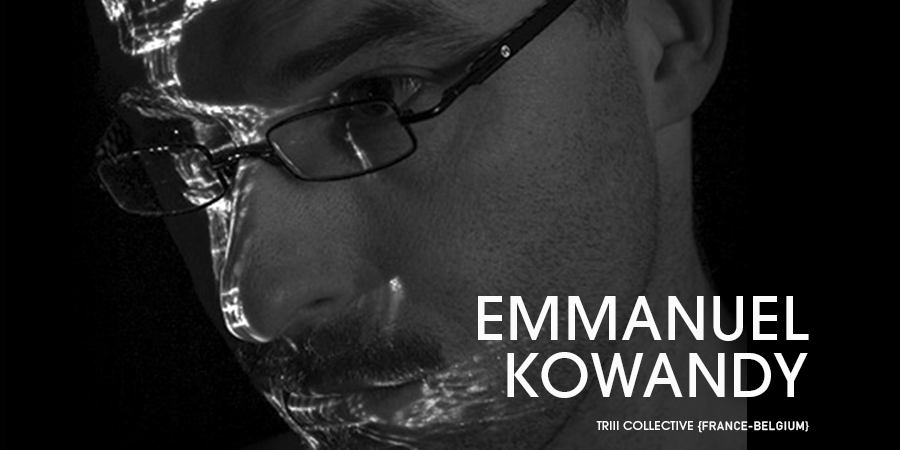 visual experience
Emmanuel is part of many LCE projects since its creation, active member of the Franco-Belgian collective TRiii, composed of visual artists and graphic arts professionals refusing the "sampling" video, Triii thinks in images and sounds.
For MORE INFORMATION, PROMO REQUEST, OR TO ARRANGE AN INTERVIEW,